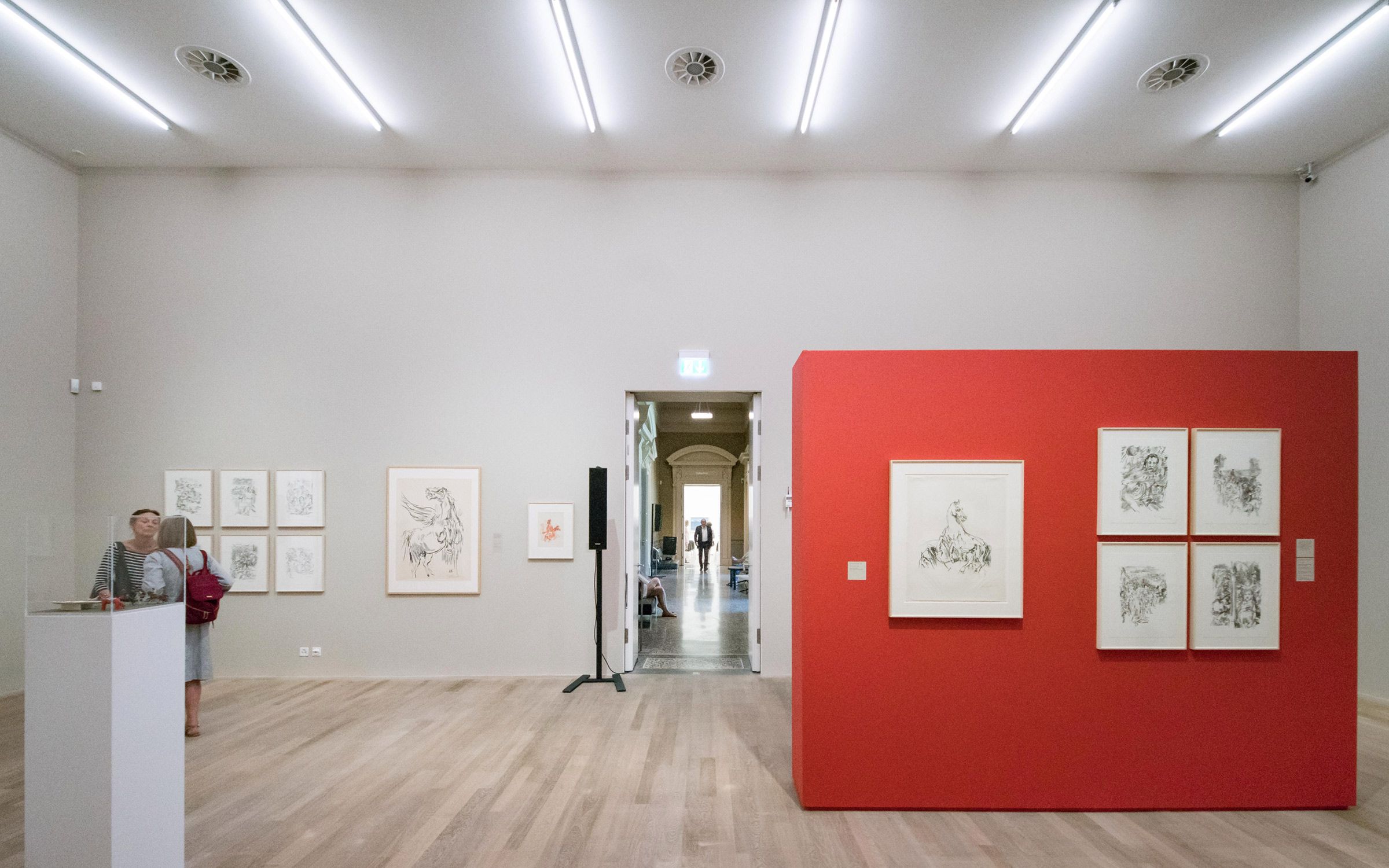 © Fondation Oskar Kokoschka, Vevey
PAST EXHIBITIONS

At the Foundation

Elsewhere

Femme fatale. Blick – Macht – Gender

9 december 2022 – 10 april 2023


Hamburger Kunsthalle

Loan of a work from the Fondation Oskar Kokoschka

Oskar Kokoschka. Enfant terrible in Vienna

23 september 2022 – 12 february 2023

Paris, Musée d'art moderne

The Musée d'art moderne de Paris presents the first Parisian retrospective devoted to the Austrian artist Oskar Kokoschka (1886–1980). Tracing seven decades of pictorial creation, the exhibition gives an overview of the originality of the artist and allows us to cross the European 20th century with him.

With a loan of more than fifty works from the Fondation Oskar Kokoschka and the publication of an article in the exhibition catalogue.

Kokoschka: the inveterate traveller

Kokoschka: the inveterate traveller

8 April 2022 - 31 July 2022

Opening day, Thursday 7 April 2022, 18:30, Musée Jenisch Vevey

After the First World War, the Expressionist artist Oskar Kokoschka embarks on a hectic odyssey that takes him across Europe and to North Africa, the Middle East, the US and beyond. Kokoschka dreams of "tales from beyond the mountains"; three, five or even ten trips a year are sometimes insufficient to quench this self-proclaimed adventurer's insatiable thirst for new discoveries. Even in his later years, he continues his "endless wanderings", seeking out both new subjects to capture and insights into himself. Landscapes and cityscapes are sketched live, sometimes in adverse weather conditions and often from an elevated viewpoint in order to obtain a panoramic effect. The scenes are depicted dynamically and without special concern for verisimilitude. For Kokoschka, painting or drawing a place is above all a concrete, "lived experience". The exhibition presents a selection of sheets executed on his travels by a man who felt at home wherever he happened to be – from the archaeological sites of Italy and Greece to the great metropolises of New York, London and Berlin.

Oskar Kokoschka. The Call of Dresden

Vevey, Musée Jenisch, Espace Kokoschka
29 May 2021 – 5 September 2021
Free opening day on May 29th 2021


Almost exactly a hundred years ago, Kokoschka (1886 Pöchlarn – 1980 Montreux) is appointed to a professorship at the Dresden Academy of Fine Arts, where he embarks on a mission to overhaul the teaching methods. His time in the city known as "Florence on the Elbe" lasts, with a few interruptions, from 1916 to 1923. Kokoschka forges close relationships with Expressionist circles and paints a large number of portraits.
Stimulated by the city's vibrant artistic life, he experiments with various techniques during a period of great creativity in which he comes to terms with the events of the First World War and recovers from his injuries. "I was able to do anything I wanted in Dresden at that time," he confesses in his autobiography.

Under the Skin. Vienna 1900, from Klimt to Schiele and Kokoschka

14 February 2020 – 23 August 2020 (reopening on June 2, 2020)
LOAN OF 5 WORKS / Lausanne, Musée cantonal des beaux-arts (MCBA)


MCBA offers a new perspective on the role of Viennese artists in the genesis of modern art. Under the Skin presents over 150 paintings, drawings, sculptures, and objects created at the dawn of the twentieth century. The exhibition looks beyond the standard compare and contrast approach to the Klimt, Schiele and Kokoschka generations and to Symbolism and Expressionism, teasing out the rise of a new sensibility expressed by a focus on depictions of skin, the point of contact between humans and society, objects and their surroundings, and buildings and the street.

Traum und Mythos. Orpheus in der modernen Kunst

Bonn, August-Macke-Haus
11 October 2019 – 16 February 2020

The August Macke House Museum highlights Orpheus in an exhibition conducted on the occasion of the 250th birthday of Ludwig van Beethoven who, like August Macke, spent the years of his youth in Bonn. The show presents the artistic treatment of the mythical story in an exciting succession of international interpretations from the end of the 19th century up to our present time. The exhibition covers all branches of artistic endeavor from the clustering of symbols in paintings and sculptures to graphics series, drafts for stage sets, and artistic handicrafts.

The Comeback. Bauhaus Meister Moderne

29 September 2019 – 12 January 2020 [loan extended until 31 January 2021]
LOAN OF A PAINTING / Halle, Kunstmuseum Moritzburg


This large-scale temporary exhibition, a reconstruction of the museum's first modern art collection, has brought together prestigious masterpieces from collections around the world that are rarely if ever shown in public. Along with the new Bauhaus Museum Dessau, this major art presentation in Sachsen-Anhalt was one of the cornerstones of the events marking 100 years of Bauhaus in the region.

Oskar Kokoschka: Expressionist, Migrant, European – A Retrospective

Vienna, Leopold Museum
6 April 2019 – 8 July 2019


The Leopold Museum is dedicating one of the most comprehensive retrospectives to date to the "exceptional artist" Oskar Kokoschka. Featuring some 260 exhibits, among them key works from international collections as well as works that have rarely or never been shown before, the presentation shines the spotlight on all periods of Kokoschka's multi-faceted oeuvre created in Vienna, Dresden, Prague, London and finally Villeneuve. Kokoschka, whose biography reads like a history of the 20thcentury, is presented both as a radical innovator and "multi-talent" – as a painter, draftsman, creator of printed graphic works, writer, dramatist and theater maker, but also as a humanist, staunch European and rather ambivalent "homo politicus". Numerous documents trace Kokoschka's changeful relationship with his "homeland" Austria, which he repeatedly left behind. Other emphases include Kokoschka's altered perception of women – from addressing the battle of the sexes to invoking the figure of the mother as a peacemaker –, his "psychological" portraits allowing introspection, as well as his ongoing advocacy of figurative art, with which he influenced subsequent generations of artists.

The exhibition at the Leopold Museum, which is home to an extensive compilation of works by the artist, is created in close association with the Fondation Oskar Kokoschka in Vevey, the Oskar Kokoschka Center in Vienna as well as in cooperation with the Kunsthaus Zürich.


Oskar Kokoschka. Arcadia of Dreams

Vevey, Musée Jenisch, Espace Kokoschka
5 April 2019 – 11 August 2019


For all of us, Ancient Greece represents an ideal, like the Garden of Eden. Why? Perhaps because it is where human beings achieved the best realisation of humanity." Oskar Kokoschka in his autobiographyMy Life


The Fête des Vignerons, which takes place this year in Vevey, celebrates a world close to the heart of Austrian Expressionist Oskar Kokoschka (Pöchlarn 1886 – 1980 Montreux). His pastoral scenes are a paean to a natural idyll in which shepherds and their flocks live side by side in harmony: a land of plenty where animals graze peacefully, the grass is lush and green, and fruit ripens in the sun. It is an unspoilt paradise watched over by Pan and Dionysus, as prodigal divinities. Invoking an Arcadia of dreams, these drawings and lithographs express the hopes for peace and the social idealism of a profoundly committed artist for whom Antiquity constitutes a political and moral golden age.

Kokoschka – Dürrenmatt. The Politicisation of Myth in the Cold-War Era

Neuchâtel, Centre Dürrenmatt
16 December 2018 – 31 March 2019


The exhibition examines the treatment of themes from Greek mythology and ancient history in the works of Dürrenmatt and Kokoschka. The pair met at Kokoschka's house in Villeneuve on 25 March 1960. Dürrenmatt subsequently dedicated a poem to his fellow artist, containing a homage to Kokoschka's triptychThe Battle of Thermopylae(1954).

Their works reveal a shared interest in certain concepts, such as the politicisation of myth and self-identification with mythological figures. Both also developed ideas for a united Europe. Classical historian Bruno Snell, who advised Kokoschka on the choice of subject for his triptych, interpreted theBattle of Thermopylaeas a key moment in the «creation of Europe» and the «defence of freedom». The Cold-War threat to the West from the Eastern bloc explains why this military encounter from ancient history had such potential relevance to audiences from the 1950s onwards. In their writings and pictorial works, both artists warned of the danger of a Third World War.


Oskar Kokoschka: Eine Retrospektive

Zürich, Kunsthaus
14 December 2018 – 10 March 2019


The exhibition, produced in in cooperation with the Leopold Museum in Vienna,is designed as a retrospective with around 250 works and documents covering all periods of Kokoschka's artistic career. With loans from the most renowned international collections, the show will present all techniques Kokoschka used, such as oil painting, pastel, drawing, watercolor and print, as well as his plays, stage and costume designs. The Kunsthaus Zürich played an important role in Kokoschka's career from an early stage, and he is accordingly well represented in the museum's collection, with more than ten oil paintings including masterpieces such as Amorous Couple with a Cat(1917). Since Kokoschka spent the last 27 years of his life in Switzerland, large parts of his artistic estate are to be found in Vevey and Zurich, apart from Vienna. As a consequence, the exhibition is conceived in exchange with the Fondation Oskar Kokoschka in Vevey and the Oskar Kokoschka Research Centre in Vienna. The last Kokoschka retrospective in Switzerland was held at the Kunsthaus Zürich in 1986.



Saddle Up! Kokoschka and the equines

Vevey, Musée Jenisch, Espace Kokoschka
21 June 2018 – 7 October 2018

While Kokoschka depicted many different animals in his work, equines – especially horses – seem to have exerted a particular fascination for him. With everything from stallions and mares, donkeys and centaurs to Amazons, unicorns and winged horses, the Austrian artist's oeuvre is a veritable equine bestiary. The animals' expressive range is seemingly inexhaustible: they appear as the mounts of agile horsemen, in battle scenes or rural settings, performing in the circus ring, or as the mighty steeds of heroes from Antiquity. For Kokoschka the horse – emblem of the «Blauer Reiter» group of Expressionists formed in Munich in 1911 – chiefly symbolises vitality and movement – values that are also central to his own art.


Ernst Ludwig Kirchner and Oskar Kokoschka

Davos, Kirchner Museum
19 November 2017 – 22 April 2018


The Oskar Kokoschka Foundation will be a partner in this comprehensive exhibition dedicated to two major figures of expressionism in Germany and Austria, Ernst Ludwig Kirchner (1880–1938) and Oskar Kokoschka (1886–1980). Focusing on the period from 1905 to the end of the 1930s, the exhibition points to the parallels that have marked the paths of both artists, especially in their beginnings, and it shows their work in engaging dialogue. Each artist is represented by circa one hundred works, paintings, drawings and engravings among them.


Oskar Kokoschka. The paintings

Vevey, Musée Jenisch, Espace Kokoschka
31 March 2017 – 1st October 2017 and 27 October 2017 – 4 February 2018


On the occasion of the launch of Oskar Kokoschka's online catalogue raisonné of paintings, this exhibition focuses on the pictorial masterpieces of the Foundation's collection, spanning from 1906 to 1973 and covering all periods of the artist's life.

When Kokoschka began his education in Vienna, the city was one of Europe's foremost spots where the frontiers separating fine arts from decorative arts were constantly challenged and redefined. Accordingly, Kokoschka followed courses in painting at a School for Applied Arts, and he was discovered by the architect Adolf Loos when he exhibited at the Kunstschau of 1908 which proved to be a landmark for Vienna's modernist movement. As other expressionists, Kokoschka then realized many figure paintings from models in movement, and he adopted the search for movement for his city views and landscapes alike when he painted them in dynamic brushstrokes and from high-angle view points.

In reaction to the infamous Munich exhibition of 1937 which denounced him as a "degenerate" artist, Kokoschka took to treat overtly political topics in some of his paintings. Throughout his life, Kokoschka continued to paint, while at the same time creating watercolors, drawings, and lithographs.


Early drawings of girls by Oskar Kokoschka (1908 – 1932)

Vevey, Musée Jenisch
14 June 2016 – 31 January 2017

The Fondation Oskar Kokoschka holds numerous depictions of young girls from all periods of the artist's creative life. In his reminiscences, his master student Friedrich Karl Gotsch recalled Kokoschka's penchant for child models when teaching at the Dresden Art Academy (1919–1923): "These creatures were given brightly coloured cloths in which they wrapped themselves and played out masquerades. It was desired of them that they should be in constant motion, though they should not move too restlessly. We were supposed to learn to grasp what was important". The girl in Kokoschka's watercolour Girl with green loincloth is using just such a cloth. The exhibition is supplemented by several precious drawings from a Swiss private collection, including the Dancing semi-nude girl lifting her skirt from 1908.


Kokoschka's travels to North Africa. An imagined Orient

Vevey, Musée Jenisch
23 February 2016 – 29 May 2016

The Fondation Oskar Kokoschka possesses two paintings that Kokoschka made in 1928 and 1929, in Algeria and in Egypt respectively: the Marabout of Témacine and Arab Women. Despite his direct contact with the locals, the artist's travel reports describe an Orient that is more imagined than truly experienced. He pictures the Marabout as a descendant of Aisha, "the last wife of Mohammed … who with her sons had engaged in a heroic struggle to try and achieve the independence of the Berber peoples". Postcards served as templates for him when painting his Arab Women, and these are still extant today in the artist's archives, held by the Zentralbibliothek Zurich. In February 1965, Kokoschka travelled through Morocco for a month, and there had the opportunity to see demonstrations of the so-called "Fantasia". This was a traditional equestrian display in the Maghreb that had been one of the best-loved motives of Orientalist painters since Delacroix. Kokoschka used his journey to create a series of 18 lithographs entitled Marrakesh. The present exhibition shows his preliminary sketches for this work, including views of camel markets, oriental architecture and scenes of the aforementioned equestrian games.


Oskar Kokoschka and Alma Mahler – a tragic love affair

Vevey, Musée Jenisch
20 October 2015 – 7 February 2016

Kokoschka first met Alma Mahler, the widow of the composer Gustav, on 12 April 1912 in Vienna. This was the beginning of a tragic love story that would come to an end just three years later. The exhibition will show many of the drawings and lithographs in which Kokoschka depicted all the ups and downs of their relationship, often in allegorical form. They include his illustrations to The Chinese wall (1914) by Karl Kraus, the twelve chalk lithographs Columbus in chains (1913), the Bachkantate, published in 1914, and the illustrations for his poem Allos Makar (1914). The title of this poem is an anagram of the names Alma and Oskar. In his drama Orpheus and Eurydice, written in 1916/17 and first performed in Frankfurt in 1921, Kokoschka worked through his failed relationship with Alma. Here, Alma appears as Eurydice, while Kokoschka identified himself with the mythological singer who descended into the underworld to rescue his beloved from the power of Hades.

In order to console himself over the loss of his lover, Kokoschka commissioned the Munich doll maker Hermine Moos to create a life-size doll after Alma's likeness in July 1918. The doll was designed according to Kokoschka's own descriptions. Although the result was a bitter disappointment to him, he used this fetish doll in several paintings and drawings.


The dreaming boys

Vevey, Musée Jenisch
26 May 2015 – 4 October 2015

In October 1907, Kokoschka wrote his first poetic work, The dreaming boys, which is regarded as a central work in secessionist book design and a landmark in the poetry of early Expressionism. The first page of the book features a dedication to Klimt, who had helped launch Kokoschka's artistic career. The poem comprises a disjointed series of dreams and images, reminiscent of fairy tales, that Kokoschka illustrated with eight colour lithographs between November 1907 and January 1908. The roughly two hundred lines of the poem are printed to the right of the lithographs. There is no punctuation and the text is in lower case letters throughout. People, anthropomorphic plants, exotic birds, lakes, islands, meadows and ships illustrate the verses in vibrant colours. The angular contours of the figures already signal a turning away from Viennese art nouveau and the beginnings of Expressionism. This work was commissioned by Fritz Waerndorfer, the director of the Wiener Werkstätte (the "Viennese workshops") and was actually supposed to have been a fairy-tale book for children. Instead, the result was what the poet Albert Ehrenstein once called "Kokoschka's puberty picture book". The poem describes in the first person the awakening of sexuality in a boy at puberty, whose fears and hesitant approaches to the opposite sex are expressed in dreams and metaphors.

Homage to Olda Kokoschka

Vevey, Musée Jenisch
17 February 2015 – 17 May 2015

To commemorate her 100th birthday, the Fondation Oskar Kokoschka is holding an exhibition in honour of its founder, Olda Kokoschka. Oldriska Aloisie, who throughout her life was called Olda, was born in Prague on 3 February 1915. She first met the artist Oskar Kokoschka in her parents' house in autumn 1934; he was almost thirty years older than her. In March 1938 Olda completed her legal studies with a doctorate at the Charles University in Prague. A few months before Hitler's destruction of "rump" Czechoslovakia by Germany, she succeeded in getting two tickets for a flight to London. On 17 October 1938, she and Kokoschka were able to evade the Nazis by fleeing into exile in England. On 15 May 1941 they married in an air-raid shelter that was serving as a makeshift registrar's office because Great Britain was at the time being bombed heavily by the Luftwaffe. Olda and Oskar Kokoschka moved to Villeneuve by the banks of Lake Geneva in 1953. In 1988, eight years after the death of her husband, Olda set up the "Fondation à la mémoire de Oskar Kokoschka" ("Foundation in memory of Oskar Kokoschka"), and chose to situate it in the town of Vevey, just a few miles from her home. She donated to the Fondation all the pictures that she had at her disposal and, right up to her death, she continued to augment its collection through further acquisitions and gifts. She died in Montreux on 22 June 2004. At this exhibition, the Fondation will show the Double portrait of Oskar and Olda Kokoschka, painted in 1963, which according to Olda Kokoschka's wishes has been held by the Museum der Moderne Rupertinum in Salzburg since 1976. The exhibition will also feature a series of nine crayon drawings from the artist's years in Prague (1934–1938) and several late watercolours of Olda Kokoschka, painted by her husband.

Oskar Kokoschka, 1915–1917: From war artist to pacifist

Vevey, Musée Jenisch
6 November 2014 – 1 February 2015

On the occasion of the hundredth anniversary of the outbreak of the First World War in 1914, the Fondation Oskar Kokoschka is presenting a selection of his works that document the transformation that Kokoschka underwent between 1915 and 1917 as a result of his war experiences. On 28 July 1914 Austro-Hungary declared war on the kingdom of Serbia. Since Kokoschka was 28 years old he was liable for military service and had to reckon on being called up at any time. His friend and mentor Adolf Loos enjoyed good relations with the Army General Staff, and this allowed Kokoschka to join the most exclusive cavalry regiment of the Dual Monarchy: the Imperial-Royal Regiment of Dragoons "Archduke Josef" No. 15. On 29 August 1915 Kokoschka was badly wounded near Volodymyr-Volynsky in Ukraine. On 29 March 1916 he applied to the war press bureau to become a war artist. After Italy declared war in May 1915, the Austro-Hungarian army fought in the Isonzo Valley in what is today Slovenia. Kokoschka was sent there in mid-July 1916 and by the end of August he had drawn some 30 pictures of troop movements, gun emplacements and ruined villages, mostly in coloured chalk. After being wounded a second time, Kokoschka became a pacifist and from 1917 onwards worked on an anti-war portfolio that can be understood as a modern variant of the Grandes Misères de la guerre by Jacques Callot (1633) and of Desastres de la guerra by Goya (1810–1814).

Oskar Kokoschka as photographed by Erling Mandelmann

Vevey, Musée Jenisch
13 September 2014 – 1 November 2014

As part of the "Images" photography festival held every two years in Vevey, the Fondation Oskar Kokoschka is organising an exhibition of photographs of Kokoschka in collaboration with the photographer Erling Mandelmann, who was born in Copenhagen in 1935. Mandelmann went in and out of Kokoschka's house for years. He was one of the artist's favourite photographers, as we can see from the many photos he made of Kokoschka and from a letter of recommendation that the latter wrote in 1963 to the Swiss painter, art critic and writer Walter Kern. Kokoschka asked Kern to publish photos by Mandelmann in the Swiss monthly magazine Das Werk: "There is a young Danish photographer, Erling Mandelmann, whom I recommend warmly to you; it would be very deserving for him to get a recommendation in 'Werk', accompanied by examples of his work, in which technical means support a truly vibrant imagination".


Drawings by Kokoschka from Swiss private collections

Vevey, Musée Jenisch
7 July 2014 – 7 September 2014

After settling in Switzerland in 1953, Kokoschka found friends, patrons and clients there who collected his works over the years. This exhibition shows superb drawings from Swiss private collections, including works from the 1920s and '30s that have never before been seen in public.


"Homage to Hellas": Views of Kokoschka's round trip through Greece in 1961

Vevey, Musée Jenisch
31 March 2014 – 29 June 2014

Between 1 October and 24 November 1961, Oskar Kokoschka went on a journey through Greece that took him to Athens, Delphi, Olympia, Sparta, Cape Sounion and Aegina. Kokoschka made numerous drawings during his journey, and these formed the basis of 26 chalk lithographs printed by Hans Christians in Hamburg in 1964, accompanied by texts from Classical authors. They show views of temples in Athens, Delphi, Aegina and Olympia and sculptures and tomb reliefs from the National Archaeological Museum and the Acropolis Museum in Athens. In his autobiography, published in 1971, Kokoschka wrote, looking back, that "Greece is for all of us an ideal like the Garden of Eden. Why? Perhaps because it was there that man realised best what it is to be human".

In the same room, the photographer Volker Hagendorf will show photographs of Kokoschka that were taken in 1964 during the opening of an exhibition of these lithographs that was held in the Galerie Tangente in Freiburg im Breisgau.


Still lives by Oskar Kokoschka – Watercolours and crayon drawings

Vevey, Musée Jenisch
1 December 2013 – 23 March 2014

This exhibition features a selection of the most beautiful still lives from the Fondation Oskar Kokoschka. A year after fleeing to London to escape the Nazis (1938), a lack of models prompted Kokoschka to begin painting watercolours of flowers. During the Second World War he undertook numerous trips through Scotland and Wales, armed with a folder containing crayons and sketchbooks. He drew dead fish by the seashore, the prey of hunters in the fields, and still lives of fruit. The highpoint of this exhibition is the oil painting Flowers in a vase from 1959, which the Fondation Oskar Kokoschka was able to acquire in 2013.


Masterworks from the Fondation Oskar Kokoschka

Vevey, Musée Jenisch
6 June 2013 – 30 November 2013

The Fondation Oskar Kokoschka is celebrating its 25th anniversary this year with an exhibition of the most beautiful paintings in its collection. The choice of works on display allows us to look back over all the artist's creative phases, from his beginnings as a student at the Vienna School of Decorative Arts in 1906 to the last years of his life.

Oskar Kokoschka visits Rolf Gérard – A posthumous reunion of two artists

Ascona, Fondazione Rolf Gérard
4 May 2013 – 29 September 2013

The two artists Rolf Gérard and Oskar Kokoschka first met seventy years ago in London. Kokoschka was 57 years old at the time and an internationally celebrated artist, so his relationship with Gérard – his junior by 23 years – was that of an honoured master and an inquisitive student.

Kokoschka's Bach Cantata in pictures and music

Vevey, Musée Jenisch
1 March 2013 – 31 May 2013

The Fondation Oskar Kokoschka is celebrating its 25th anniversary this year with Kokoschka's favourite Bach cantata, O Ewigkeit, du Donnerwort, which visitors can experience in both pictures and music. Busoni's pupil Leo Kestenberg played and explained the work to Kokoschka and thereby helped inspire him to the series of lithographs entitled O Ewigkeit – Du Donnerwort, Bachkantate ('O eternity, thou word of thunder, Bach cantata') that was published in Berlin by Fritz Gurlitt in 1916/17.

Oskar Kokoschka's View of Antiquity

Vevey, Musée Jenisch
3 November 2012 – 2 February 2013

Kokoschka's artistic and literary oeuvre is testament to an intensive, lifelong engagement with Classical Antiquity. His earliest drama, Mörder, Hoffnung der Frauen (Murderer, hope of women, 1909) includes dramatic elements from the Oresteia by Aeschylus and from Kleist's Penthesilea.

Masterworks from the Fondation Oskar Kokoschka

Vevey, Musée Jenisch
23 June 2012 – 28 October 2012

In order to inaugurate the new Kokoschka Hall of the Musée Jenisch in Vevey, the Fondation Oskar Kokoschka will exhibit the best works from its collection.

Oskar Kokoschka – Wunderkammer / Cabinet de curiosités

Appenzell, Museum Liner
11 July 2010 – 9 January 2011
La Chaux-de-Fonds, Musée des beaux-arts
14 May 2011 – 4 September 2011

Throughout his life, Kokoschka was a passionate collector, as proven by some 300 objects that have been preserved by the Fondation Oskar Kokoschka. This exhibition showed for the first time a selection of objects from Kokoschka's collection in his villa in Villeneuve. A comparison of individual pieces with his pictures makes evident that many of them served the artist as objects of study – for they are to be found again in oil paintings, watercolours and lithographs.


«Spur im Treibsand» – Oskar Kokoschka neu gesehen. Briefe und Bilder

Zürich, Zentralbibliothek
14 April 2010 – 2 October2010

This exhibition displayed unknown manuscripts, drawings and photographs from the artist's written estate, held by the Zentralbibliothek Zürich, plus works in the possession of the Fondation Oskar Kokoschka. Pictures and texts illuminated and complemented each other, like pieces in a jigsaw puzzle.

«I love Jenisch» - Voyage au cœur des collections

Vevey, Musée Jenisch
22 February 2008 – 17 August 2008

Under the motto 'I love Kokoschka' this exhibition, held in a hall of the Musée Jenisch, showed five paintings and graphic art in the possession of the Fondation Oskar Kokoschka.

Kokoschka et la musique / Kokoschka and music

Vevey, Musée Jenisch
7 July 2007 – 15 September 2007

This exhibition showed a selection of some 60 works that illustrated the intimate relationship that Kokoschka had to music and to the most famous musicians of the 20th century. His circle of friends included the composers Anton von Webern and Alban Berg, the conductor Wilhelm Furtwängler, the pianists Sviatoslav Richter and Rudolf Serkin and the violinist Yehudi Menuhin. Also on display were photographs of Kokoschka's Magic Flute production in Salzburg in 1955 and scores of composers such as Paul Hindemith, who was the first to make an opera from one of the artist's stage works.

Early graphic work of Kokoschka, 1906 – 1923

Vevey, Musée Jenisch
13 November 2006 – 17 January 2007

This exhibition united the most important works of Kokoschka's graphic art from the period 1906 to 1923, including his postcards for the Wiener Werkstätte, the colour lithographs for his first poetic work, Die träumenden Knaben ('The dreaming boys'), his illustrations to Karl Kraus's Die chinesische Mauer ('The Chinese Wall') and his lithograph series Der gefesselte Kolumbus ('The captive Columbus') and Die Bachkantate ('The Bach cantata').

Paintings and graphic art from the collection of the Fondation Oskar Kokoschka

Vevey, Musée Jenisch
1 July 2006 – 12 September 2006

In five halls of the Musée Jenisch, paintings, pastels, watercolours, drawings and lithographs by Kokoschka were shown.

Oskar Kokoschka. Erlebnis des Augen-Blicks. Aquarelle und Zeichnungen

Hamburg, Bucerius Kunst Forum
26 November 2005 – 5 February 2006

Under the auspices of the Kokoschka specialist Heinz Spielmann, the Bucerius Kunst Forum in Hamburg organized a retrospective with Kokoschka's watercolours and drawings from seven decades. The greater number of exhibits came from the collection of the Fondation Oskar Kokoschka; further items came on loan from private collections, the Albertina in Vienna, the Museum für Kunst und Gewerbe in Hamburg, the Leopold Museum in Vienna and others.

Kokoschka. Beziehungen zur Schweiz

Pfäffikon, Seedamm Kulturzentrum
13 November 2005 – 5 February 2006

The topic of this exhibition was Kokoschka's early travels to Switzerland; his large exhibitions in Basel, Berne and above all in the Zurich Kunsthaus; his contact with Swiss collectors, museum staff, patrons and art dealers; his Swiss landscape paintings; and his decision to settle down near the Lake of Geneva, where he was resident for longer than anywhere else, from 1953 to his death in 1980.

Paintings and graphic art from the collection of the Fondation Oskar Kokoschka

Vevey, Musée Jenisch
1 July 2005 – 28 September 2005

This exhibition showed a selection of works in the possession of the Fondation Oskar Kokoschka. At the centre of the exhibition was the newly acquired painting Crucifixion from 1911.

Hommage à Olda Kokoschka

Vevey, Musée Jenisch
2 July 2004 – 18 September 2004

In honour of Olda Kokoschka, who died on 22 June 2004, the Musée Jenisch showed in two halls a commemorative exhibition with works from the foundation that she had created.

Alles OK – Oskar Kokoschka, ‹Schule des Sehens›, 1906 – 1976

Apolda, Kunsthaus Apolda Avantgarde
7 June 2003 – 7 September 2003

The goal of this exhibition was to use selected works from the collection of the Fondation Oskar Kokoschka in order to give visitors an overview of all of the artist's creative periods, from 1906 to 1976.

Kokoschka nomade

Vevey, Musée Jenisch
13 April 2002 – 8 September 2002

Kokoschka called himself a cosmopolitan and a vagabond, for throughout his life he travelled the world and stayed in many countries and capital cities such as Berlin, Paris, Prague and London. Between 1924 and 1930 he travelled back and forth across Europe, Asia Minor and North Africa. This exhibition showed paintings, drawings and lithographs of cities and landscapes that Kokoschka saw on his travels.

Werke der Stiftung Oskar Kokoschka

Emden, Kunsthalle
20 October 2001 – 20 January 2002

Some 150 works from all of Oskar Kokoschka's creative periods were lent to the Kunsthalle in Emden for this exhibition.

Oskar Kokoschka - von Pöchlarn in die Welt

Pöchlarn, Oskar-Kokoschka Documentation
2000

In 1973, the Association for the Research and Documentation of the Work of Oskar Kokoschka was founded, based in the house where he was born in Pöchlarn. The Association organized this exhibition there, together with the Fondation Oskar Kokoschka.

Oskar Kokoschka. Peintures et œuvres sur papier. Vienne 1906 – Paris 1931

Paris, Musée-Galerie de la Seita
29 December 1998 – 7 March 1999

This exhibition united 96 works belonging to the Fondation Oskar Kokoschka and the collection of Serge and Vally Sabarsky in New York.

Oskar Kokoschka. L'œuvre gravé (1906 – 1923)

Namur, Musée Félicien Rops
19 June 1998 – 23 August 1998

This exhibition showed a selection of graphic art from the Fondation Oskar Kokoschka.

Oskar Kokoschka

Bruxelles, Hôtel de Ville
16 June 1998 – 30 September 1998

This exhibition was realized by the Fondation Oskar Kokoschka.

Œuvres graphiques d'Oskar Kokoschka des années 1906 à 1923

Vevey, Musée Jenisch
7 February 1997 – 20 April 1997

This exhibition took place in several halls, showing watercolours, drawings and lithographs by the artist.

Werke der Oskar Kokoschka-Stiftung im Museum Jenisch, Vevey

Salzburg, Rupertinum
20 July 1996 – 13 October 1996

Oskar Kokoschka – Viaggi e figure

Bellinzona, Museo Villa dei Cedri
30 March 1995 – 2 July 1995

This exhibition showed paintings, drawings and lithographs of cities and landscapes to which Kokoschka travelled in the course of his life.

Collection de la Fondation Oskar Kokoschka

Vevey, Musée Jenisch
5 June 1994 – 16 October 1994

This exhibition showed in several halls the most beautiful works in the possession of the Fondation Oskar Kokoschka.

Peintures et aquarelles de Kokoschka dans la collection de la Fondation Oskar Kokoschka

Vevey, Musée Jenisch
15 August 1993 – 30 October 1993

In five halls of the Musée Jenisch, paintings and watercolours were shown that belong to the Fondation Oskar Kokoschka.

Oskar Kokoschka – Buntes Tagebuch

Pöchlarn, Oskar-Kokoschka-Dokumentation
1993

This exhibition was realized in collaboration with the Fondation Oskar Kokoschka.

Oskar Kokoschka - Lebensspuren

Koster Cismar, Schleswig-Holsteinisches Landesmuseum
28 June 1992 – 25 October 1992
Mainz, Landesmuseum
15 November 1992 – 17 January 1993

This exhibition showed selected paintings, watercolours and drawings belonging to the Fondation Oskar Kokoschka, dating from 1906 to 1976.

Oksar Kokoschka – Souvenirs de voyages

Vevey, Musée Jenisch
16 June 1992 – 27 September 1992

This exhibition showed drawings and the sketchbooks in which Kokoschka sketched on his travels.